We have hundreds of LTL/Box/Straight truck loads available for our members to haul. Depending on your location and lane searched, our search form gives you the ability to narrow your results using Size, Weight, and Length filters.
Steps to search for Straight Box Truck loads (video):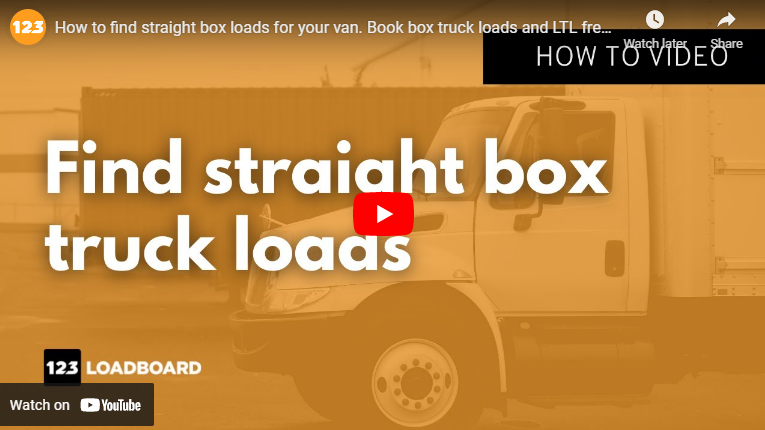 Steps to search for Straight Box Truck loads (tutorial):

- Log into your account on our website on mobile app
- Start a new load search
- Enter Van (V), Cargo Van (CV), Moving Van (MV), and Straight box truck (SB) as the trailer types (1)
- Edit your load size by entering your maximum weight (2) and maximum length (3).
- To ensure that you're not calling on many loads that will require a transport semi-truck is to exclude loads without weight (4) and exclude loads without length (5).

NOTES
- Please keep in mind that some loads without the weight and/or length posted may be worth contacting.
- Look at any "load notes" in the load details as the broker or shipper might mention dimensions, etc.
- On the results page, also use the + filter to make your search more precise with LTL (Less-Than-Truckload).

TIPS FROM OTHER TRUCKERS
- Know your maximum capacity (ie. weight in lbs) that you can haul.
- IMPORTANT: Don't limit your search by maximum length. Focus on looking through loads by weight as some of the lighter 53ft van loads can often still work so that 12 pallets fit in your straight truck. Even if the load says 53ft and 10,000lbs, call the broker and see how many pallets. Ask the broker to reach out to the shipper and receiver to see if they would load it onto a box truck - 9 times out of 10 it will work. It doesn't hurt to ask and this method is working for many truckers.
- Don't only search for LTL.
- Van loads that don't specify a length or weight should be contacted. brokers are often too busy and neglect to add all key information in their load details.