To get the best user experience while using our app and website, we suggest you turn on push notifications on all devices (desktop, mobile, tablet, etc). Push notifications are short messages that pop up on your mobile or desktop, nudging you to take some action. Notifications will allow you to be contacted when you receive messages or when you receive alerts about available loads around you.
If you're not receiving any notifications from us, then it's likely that your notifications are
disabled for our app or on your desktop browser. You may turn these notifications back on by following these steps.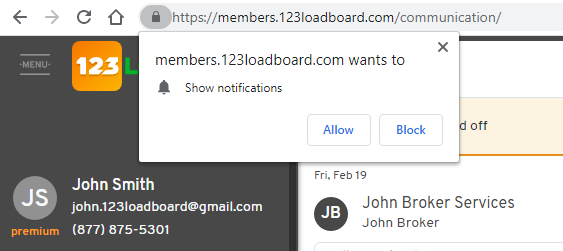 To turn on/off Notifications on iOS
Tap Settings.
Scroll down and select 123Loadboard from the list of installed apps.
Tap Notifications.
Tap Allow Notifications to enable/disable. Note: Notifications are enabled when the switch is slid to
the right and green.
To turn on/off Notification on Android
Tap Settings.
Tap Apps to view a list of installed applications on your phone.
Find and tap the 123Loadboard app.
In the app settings page that appears, tap the Notifications category.
Next, make sure the Block All setting is turned off/on.
To turn on/off Notifications on Chrome Browser
On your computer, open Chrome.
At the top right, click More.
Click Settings.
Under "Privacy and security," click Site settings.
Click Notifications.
Scroll down and add/remove https://members.123loadboard.com
To turn on/off Notifications on Firefox Browser
Click the menu button and select Options.
Click Privacy & Security from the left pane.
Scroll to the Permissions section.
Click the Settings button/link next to Notifications
Ensure that https://members.123loadboard.com is enabled/disabled to allow/deny notifications.
Click the Save Changes button.
To turn on/off Notifications on Microsoft Edge Browser
Click on the menu for options.
Select Settings from the list.
Click Cookies and site permissions from the left sidebar pane.
Within the All Permissions section, select the Notifications.
Now add/remove https://members.123loadboard.com to allow/deny notifications
Need help? You can call our Customer Support Team at 1-877-875-5301 from 8am-6pm M-F EST