As an owner-operator, it is imperative to minimize your empty miles. Post your truck and brokers and shippers with loads will contact you with offers to haul their loads.
As a dispatcher, you will want to post and manage all your carrier trucks so that capacity is available for brokers or shippers with available loads.
Posting your truck (video)
Posting your truck (tutorial)
- Log into your account on our website
- Click on Post truck in the left navigation menu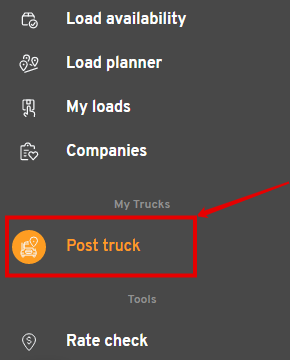 Next, post your truck using the available 3 options:
Option 1 - Real-time truck post
Real-time truck posting is ONLY available on our mobile app as it uses your mobile phone GPS location to update your location and truck post in real-time.
Option 2 - Scheduled truck post
Create a scheduled truck post when you know you're going to be somewhere and would like to receive load offers ahead of time.
Option 3 - Expired truck post
Any previous truck posts that are past their posted date will appear here until their dates are changed for easy reposting or until they are deleted.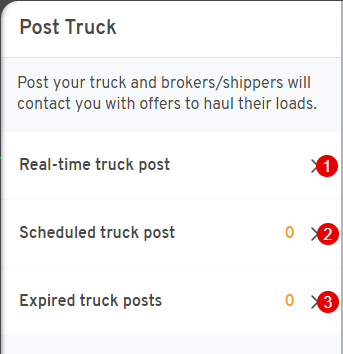 Post a scheduled truck:
- Select the "Scheduled truck post" option
- Click 'Create new post':

- Complete the form by entering all highlighted areas shown below:
1) Enter pick up location
2) Enter the radius you would be
3) Enter your drop off location (either a city, State(s), USA, and/or Canada)
4) Enter a pickup date (you can select multiple dates)
5) Select a truck/trailer type.
If needed, create a new truck for additional carriers.
TIP: This is a great feature for Dispatchers or owner-operators with multiple trailers.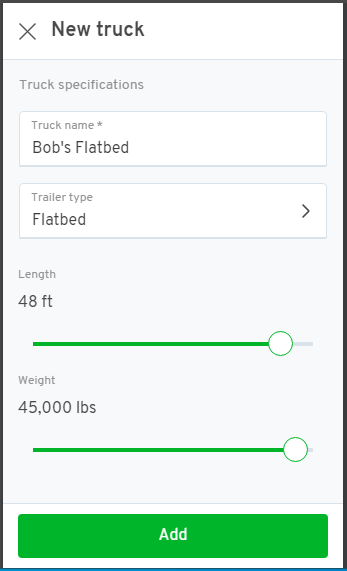 6) Adjust your available capacity load size (ie. available truck size, available length and weight)

Once posted, your truck will be visible to brokers and shippers. If they have a load that matches your truck post, they will contact you directly with load offers.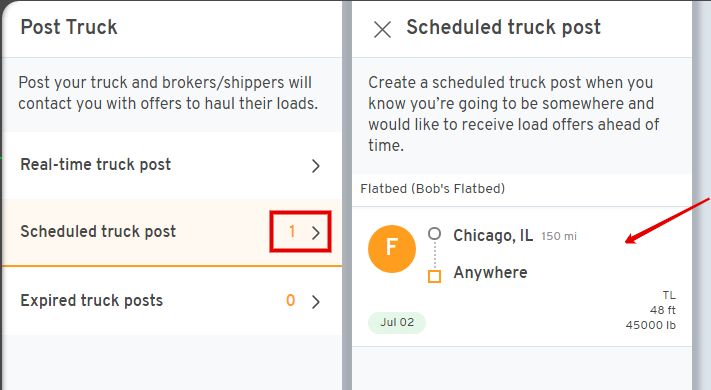 To update your truck post at anytime, simply click the truck post itself and the form will open allowing you to 1) delete and 2) update the post accordingly.